Press Release from Buckinghamshire Council
14 October 2020
Council to move ahead with Ivinghoe freight zone.
​
Buckinghamshire Council has announced plans to move ahead with the implementation of the Ivinghoe area 'freight zone', after some delays due to the coronavirus pandemic.
The scheme, to reduce HGV traffic in the Cheddington, Ivinghoe and Mentmore areas, sits within defined boundaries, east of the A418, north of the A41 and west of the B489. Work to draft the necessary Traffic Regulation Orders needed for the zone is now scheduled to start in mid February 2021, when formal public consultation will take place. Subject to the feedback received, the scheme could be fully operational by spring 2021. 
Essential works to strengthen the Brownlow bridge on the B488 have completed.
Public engagement on the concept of the freight zone took place last March and was widely supported by local residents, businesses and community groups. It included dialogue with parish councils, local councillors, and businesses, along with drop-in exhibition events in Ivinghoe and Wing and a survey which received 332 responses.
Buckinghamshire Council Cabinet Member for Transport Nick Naylor said he was delighted to announce the news. "I'd like to have got on with things quicker, however COVID-19 restrictions have affected our planning with council officers and resources redeployed to help support the vulnerable and those at highest risk.
"But now I'm delighted we're back on track and that the Ivinghoe area is set for its freight zone. Once drafted, the TROs will be subject to statutory public consultation so people can have their say on all the detail before final implementation. We also need to liaise with colleagues in Hertfordshire and Central Bedfordshire Councils as some of the signage will need to be sited in their areas," he added. 
The Orders will include a 7.5 tonne weight restriction on vehicles travelling through the zone. There will be an exception for vehicles travelling to destinations within the zone, which means deliveries and collections for local homes and businesses can continue unaffected.
Monitoring in November 2019 showed an average of 254 HGVs per week passed through the proposed zone, heading for destinations further afield, around 47% of the total HGV traffic in the area.
Local ward councillor and Wing and Ivinghoe Community Board Chairman Anne Wight added, "This is great news. The 'freight zone' would give us that balance between allowing those HGVs that need to come to the area and discouraging those that just pass through. Potentially this scheme could see lorry movements reduced by close to 50%, considerably reducing the negative impacts on local residents, buildings and the environment."
In the pictures - strengthening work to Brownlow Bridge is currently taking place.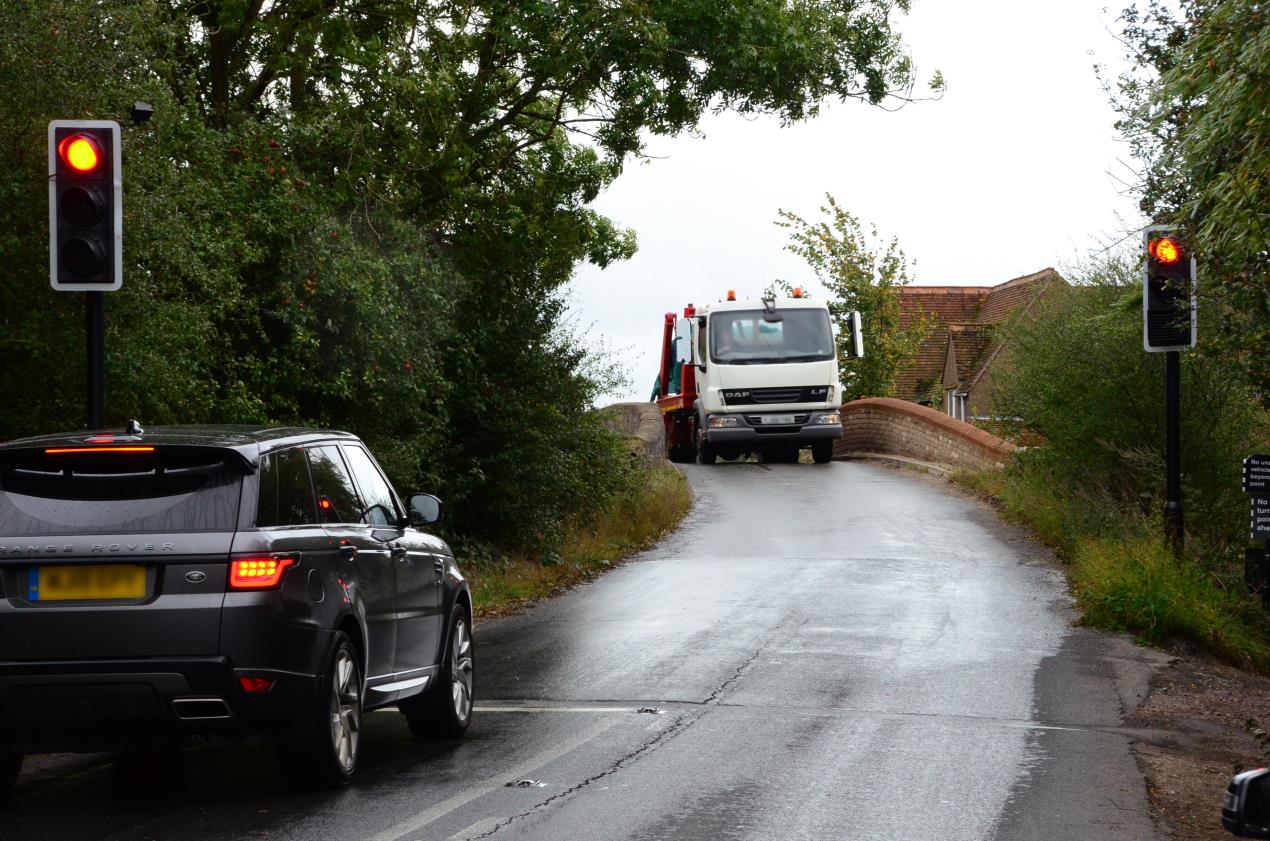 Notes to Editor
The survey results were:
70% agreed or strongly agreed with the freight zone proposals - 95% of these lived within the proposed zone
23% disagreed or strongly disagreed with the proposals - 69% of these lived in Buckinghamshire outside the proposed zone
7% neither agreed nor disagreed
72% preferred a 7.5 tonne restriction in the proposed freight zone on all roads, including Brownlow Bridge
4%  preferred a 7.5 tonne restriction on Brownlow Bridge but not on roads in the proposed freight zone
8% preferred no change to the movement of heavy lorries
12%  provided alternative solutions
5% were not sure
For further details about the results, please visit - https://yourvoicebucks.citizenspace.com/highway-projects/ivinghoe-fz-survey/ 
Contact us at communications@buckinghamshire.gov.uk (monitored during office hours). For urgent Out Of Hours enquiries call 07825 430 978                         
Brownlow Bridge - Weight Limit Reduction to 18 tonnes
This webpage is to inform local residents and businesses about the reduction of the weight limit  on the Brownlow bridge on the B488 in Ivinghoe, its impact and related matters. It will be progressively updated as more information is received.
Bucks CC have issued the above information regarding public consultation which will be undertaken during coming weeks.
The Brownlow Bridge in Ivinghoe has become subject to an 18 tonne weight limit following a saftey check by Canals & Rivers Trust.
Bucks CC have engaged a professional Freight Strategy Manager to investigate and advise on the situation and he is supportive of restoring it to full capacity (44 tonnes) but only for local businesses. However this is entirely subject to confirmation and approvals by County authorities and so cannot be taken as the definite way forwards. Anne Wight's  report follows:
Dear all,
In response to some of your queries regarding the TTRO on the Brownlow Bridge, I have the following statement from our Freight Strategy officer.    I hope this will answer any questions regarding the bridge TTRO and the current situation with regard to the Freight Strategy.
———————————————————————————————————————
The Temporary Traffic Regulation Order (TTRO) on the Brownlow Bridge was put in place on the 09th May 2019 as a result of structural integrity issues raised by the Canals & Rivers Trust. Although The maximum period of time a TTRO can be in place is 18 month this one was introduced for a period of 12 months. The plan at the time was for the first 6 months to be taken exploring options, taking advise from engineers and others and working towards finding the way forward. The second 6 months period was to be used to cover the approval process, the statutory public consultation and to commission and undertake any works required from the proposal.  
We are presently on schedule, having found what believe is the best solution available. There are still some open aspects to be covered off but we hope to be able to position for internal approvals shortly after which we will be able to bring it for public consultation. We are keen to have the bridge and the wider concerns about HGV traffic flows resolved as soon as we can however, we do appreciate the current pressures and concerns. We also understand that it is unlikely we will be able to please everyone 100% and that there will need to be a focus on working collaboratively to address any issues that arise.
We would ask for the continued goodwill and patience of the residents, communities and local businesses as we strive to deliver our proposals, gain support and get any works complete as quickly as we can.
———————————————————————————————————-
I hope this helps answer any questions which you and your residents might have at the present time.  I will keep parishes updated as to further developments as and when they arise. 
Many thanks for your continued support and patience as we try to finalise the freight strategy proposals.
__________________________________________________________________